---
Welcome to Golfguard Worldwide Golf & Travel Insurance
GOLFGUARD has been arranging insurance cover for golfers for 30 years.

We currently insure thousands of individual golfers, with annual premiums starting from just £15.00 for our Selective Cover and for our Full Cover from £22 according to the value of your golf equipment. We also arrange low cost group cover for hundreds of golf clubs and societies.

Highly competitive travel insurance is available for single trips with no upper age limit and annual policies are available for those up to the age of 79. All travel cover is subject to medical acceptance.

You can apply for Golf and Travel cover online where all the benefits and terms and conditions are available.
Alternatively if you prefer, we would be pleased to discuss your particular question or requirements, on
0800 581801.
---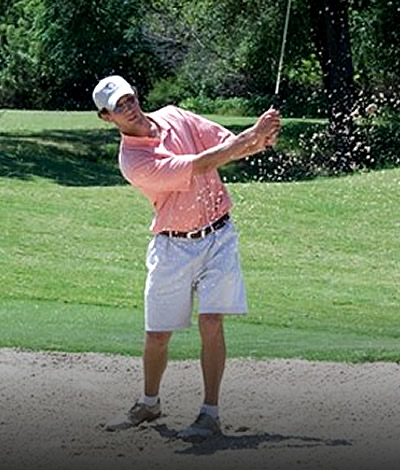 Low cost liability cover is available for golfers. Here are some of the options available to individual golfers, Members of Golf Clubs and Golf Societies:
Our Selective Cover provides  Worldwide Personal Liability/Personal Accident cover for an individual golfer for only £15.00. 
Alternatively from just £22 you can arrange 12 months worldwide cover for you and your golf equipment, with premiums depending on your equipment value
All policies and premiums include up to 120 days worldwide cover and new for old equipment replacement
Premiums are kept consistently low for both new and renewing customers
Group Personal Liability Cover for the Members of  Golf Clubs for only £1.20 per Member and from only 8p per Visitor.
Golf Societies can arrange annual worldwide cover for their Members  from just £5 per Member.
Golf Buggies – Many Golf Clubs now insist that golf buggy owners have specialist golf buggy cover.  We provide 12 months cover from only £44 depending on the value of the buggy.
All our premiums include Insurance Premium Tax (IPT)
SIMPLY PHONE 0800 581 801 FOR A QUOTE. 
---
If you are looking to arrange travel insurance, we are here to help you, whatever your age. Whether you require cover for a single trip or annual travel insurance give us a ring on 0800 581801.
Our Annual Travel Insurance cover starts from just £61.50
Our Golfguard Annual Multi trip cover is available up to the age of 79.
However, if you are between 80 and 84 we can still arrange annual cover for you with another insurer – please call us for a quotation
We can also arrange cover for single trips with no upper age limit
Cover for skiing, cruises and longer trips abroad is available
Our Travel Insurance can be arranged for both golfers and non golfers
We are here to assist you with your travel insurance requirements. Just give us a ring on 0800 581 801 or:
---
If you are planning a cruise or a longer trip abroad it is often difficult to find the right travel insurance.
So why not talk to us first on 0800 581801. We are waiting to assist you.
We will find the right cover to suit your particular requirements whether you are going on a cruise or for a longer trip abroad – we can arrange cover for trips of up to 120 days with no upper age limit.
All cover is subject to medical acceptance.
---
GOLFGUARD Plus – Providing Cover for Other Sports
GOLFGUARD golf insurance Members can include cover for many other sports for an annual premium of just £10 per sport. Simply visit GOLFGUARD Plus where you will find an Application Form with a list of the sports for which cover can be arranged.
---
Insurance Premium Tax (IPT)
All premiums quoted include Government Insurance Premium Tax
---